Finding Your Perfect Wedding Post 6 of 8
This series of posts will start on Apr 15th 2013 and will post every week for 8 weeks.
Talk to each other about the location of your wedding and whether or not it is going to be a place that is personal or a place that is more functional. The nice thing about locations is that you can get married in an array of different kinds of locations.
"List the places that excite you: a historic home or a museum, a garden, loft, photographer's studio, townhouse, yacht or ferry, even the marina. Be inspired by your surroundings: a mountain lodge, the beach, a winery; if you met at college, look at campus halls, the library, the Dean's office" (McBride-Mellinger 66). The place you choose to get married does not have to cost you anything. You may want to get married at a friend's ranch or in the backyard of a relative. There are parks all over the US where you can reserve a space for a few hours. Some of these locations that are free are more beautiful and functional than a lot of wedding venues and it's okay if those places inspire you and you want to be married there. Try not to think that because you're not spending money on the venue your guests may consider you to be cheap or poor. If the location moves you, it will move your guests as well.
One of the major challenges that brides have is getting around their vision of what the venue should look like. Many brides will go venue hopping until they reach the point where all of the venues seem to run together. Go for what you want, but in the case of your wedding venue, consider allowing the location to speak to you and help shape your vision rather than forcing the venue to mold to your ideal.
If you can allow the venue to inspire you and your vision, you will have the perfect venue regardless of how much it cost. The idea here is that a venue is not like your dress or your cake, which can be created to be exactly what you dreamed. The best approach for you to find the perfect space is to allow yourself to love the space you found.
There's a lot to be said about this type of mentality, regardless of if you are looking at a venue or allowing your wedding to come together organically. The idea that you're "forcing it" usually only applies when multiple situations are not working out. If every step you take in the direction that you're going seems to be more and more challenging, than you're probably forcing it. This is one of the reasons most weddings have serious problems on its wedding day. It's simply a frame of mind because things don't always go the way you planned.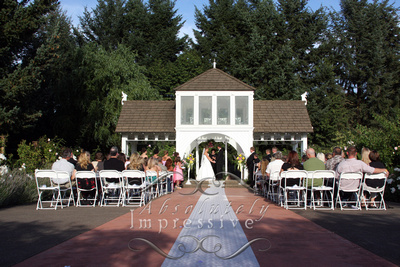 There were signs, a few weeks before our wedding, that for all my planning, note taking, three ring binders, and things to do lists (not to mention prolific check writing), and despite the fact that for many months I had expended the better part of my talents and brainpower on constructing a perfect three day weekend for me, Andrew, our family, and our friends… things were not going to go exactly as we had planned.
Two weeks before the wedding, for example, the copy place I'd chosen to assemble our wedding favors—books I put together containing quotes, song lyrics, movie lines, poetry, and original thoughts about love and marriage, solicited (strong armed) from our guests—failed to use the Cornflower blue paper I provided, churning them out on good old white typing paper instead. And then there was the owner's insistence, when I walked in to pick up the corrected books, on saying: 'Don't do it!' (He had a bitter divorce he said. (Wicoff 267)
These things really do happen and that is okay. It really is. You are the one getting married and this is your wedding.
Works Cited
Grimes, Ronald L. Deeply into the Bone: Re-Inventing Rites of Passage. Ewing: University of California Press, 2002. Print.
Lee, Vera. Something Old, Something New. Naperville: Sourcebooks, Inc, 1994. Print.
McBride-Mellinger, Maria. The Perfect Wedding. New York City: Smallwood & Stewart, Inc., 1996. Print.
McDonald, Kerry. Your Unique Wedding. Franklin Lakes: Career Press, 2005. Print.
Pleck, Elizabeth H. and Cele Otnes. Cinderella Dreams: The Allure of the Lavish Wedding. Ewing: University of California Press, 2003. Print.
Stern, Lee. "Wedding Plans?" Fairfield County Business Journal 36.44 (1997): 21-22. Web. 21 January 2013.
Wicoff, Kamy. I Do, But I Don't. Boston: Da Capo Press, 2006. Print.