Finding Your Perfect Wedding Post 5 of 8
This series of posts will start on Apr 15th 2013 and will post every week for 8 weeks.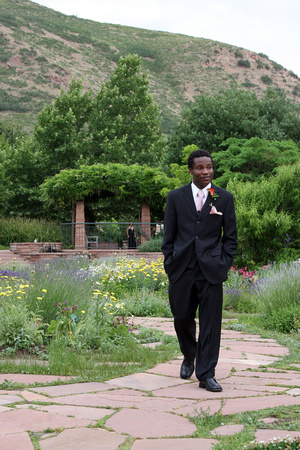 There are traditions we do in the USA, which we take for granted. The white wedding dress did not become popular because it represents purity but because some upper-class brides wanted to flaunt their wealth by wearing a light fabric that could only be worn once. In fact, the color of your dress is more likely to change depending on where you get married not whether you have had premarital messing-arounds. If you were getting married in Spain you would be wearing black, in China and Islamic cultures your dress would be red, in Russia you would be in blue because it has long been a symbol of purity (Lee 38).
Brides have been saying "I do" in the dress colors above for many, many years because that was what was expected of them and appropriate for their culture. There are so many things that brides do today because it is a requirement that they couldn't change. I have seen regrets in some of the brides and grooms that I have worked with when they chose to do something at their wedding just because they feel like they had to follow tradition.
If bucking the ideas of the past is going to make you happy, do it. This is your day. Just be ready to explain to grandma why your guests didn't yell "Mazel Tov" as your Christian minister pronounced you man and wife. This thought alone may just move you to invite some guests and not invite others.
If you haven't done so, it's a good idea to sit down with your fiancé and write out the list of super important things about your wedding.
Works Cited
Grimes, Ronald L. Deeply into the Bone: Re-Inventing Rites of Passage. Ewing: University of California Press, 2002. Print.
Lee, Vera. Something Old, Something New. Naperville: Sourcebooks, Inc, 1994. Print.
McBride-Mellinger, Maria. The Perfect Wedding. New York City: Smallwood & Stewart, Inc., 1996. Print.
McDonald, Kerry. Your Unique Wedding. Franklin Lakes: Career Press, 2005. Print.
Pleck, Elizabeth H. and Cele Otnes. Cinderella Dreams: The Allure of the Lavish Wedding. Ewing: University of California Press, 2003. Print.
Stern, Lee. "Wedding Plans?" Fairfield County Business Journal 36.44 (1997): 21-22. Web. 21 January 2013.
Wicoff, Kamy. I Do, But I Don't. Boston: Da Capo Press, 2006. Print.