Finding Your Perfect Wedding Post 1 of 8
This series of posts will start on Apr 15th 2013 and will post every week for 8 weeks.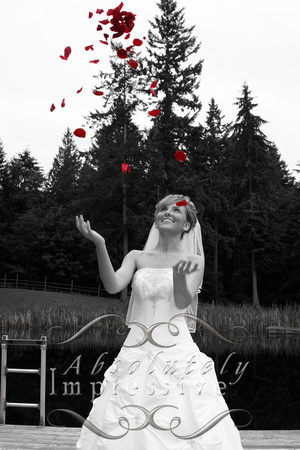 Clouds are dancing through the deepest of blue skies on July 7, 2007. The sun has created an amazing 77 degrees. There is a slight
breeze in the air, feathering in the aroma from the mint field that is just over the fence from your grandparents' huge backyard. This is not the first wedding that your grandparents' yard has seen. It seems like everyone that is important to you in your family has gotten married there. You are getting ready in the white tent placed perfectly in one corner of the yard. Your whole life, you have envisioned this day. You are finally alone for a few moments and you calmly sit down on the most comfortable red velvet settee. There on the table is the bouquet you have dreamed about your whole life.
This bouquet has the combination of every flower that you have always adored. The look and smell of the bouquet is intoxicating. The white roses and gardenias compliment the edges of the pink Asiatic lilies. The florist was offended and frustrated when you told them that your compliment to this piece of art was dandelions growing in your grandparents' backyard.
Your grandparents never had a lot of money. Your grandfather was a hopeless romantic and had passed away just five short years ago. Every morning he would get up before your grandmother and, if there were dandelions in his backyard, he would pick a bouquet, put them in this old ceramic coffee cup and place them on the kitchen table, just for her. Those dandelions in your bouquet mean more to you than almost anything else that you have planned as part of your wedding day.
"Planning this type of event clearly has profane aspects. Nevertheless, it involves a few sacred objects and sacred moments that are unusual and extraordinary and that transcend normal routine. In the wedding context, some brides even claim that items seem to magically reveal themselves as they shop … [and] help fulfill the fantasies for their wedding day". Your perfect wedding requires you to focus on what is very important to you and your wedding day. Pleck and Otnes are right: go out into your world pay close attention to the little things that are sacred to you and your fiancé. The guests that are at your wedding may not even notice these little things. Perhaps only the people closest to you recognize the significance of the details that you have put into planning your wedding that mean the most to you. It's okay. These things drive the flawlessness of the day. These details don't have to be objects. They could be a small ritual that you and your fiancé have together. They could be the way you hold each other's hand. It can be as simple as a color that you both like or remind you of a moment that you spent together.
You will have to make sacrifices based on your budget and you are going to need to sift through a ton of whirling information. You will need to maintain a clear understanding of what you want and do your best to find the vendors and products that you will need to accomplish this task. In the fallowing blog posts you will find information that will help you sort through the cacophony to create the wedding of your dreams.
Works Cited
Grimes, Ronald L. Deeply into the Bone: Re-Inventing Rites of Passage. Ewing: University of California Press, 2002. Print.
Lee, Vera. Something Old, Something New. Naperville: Sourcebooks, Inc, 1994. Print.
McBride-Mellinger, Maria. The Perfect Wedding. New York City: Smallwood & Stewart, Inc., 1996. Print.
McDonald, Kerry. Your Unique Wedding. Franklin Lakes: Career Press, 2005. Print.
Pleck, Elizabeth H. and Cele Otnes. Cinderella Dreams: The Allure of the Lavish Wedding. Ewing: University of California Press, 2003. Print.
Stern, Lee. "Wedding Plans?" Fairfield County Business Journal 36.44 (1997): 21-22. Web. 21 January 2013.
Wicoff, Kamy. I Do, But I Don't. Boston: Da Capo Press, 2006. Print.