<![CDATA[
Finding Your Perfect Wedding Post 4 of 8
This series of posts will start on Apr 15th 2013 and will post every week for 8 weeks.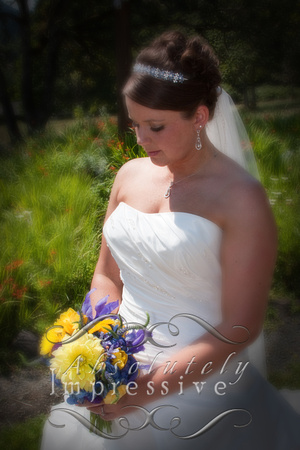 There are major details in every wedding that are very important because the bride and groom have a connection to those particular details. For your wedding to run very smoothly and be an absolute success, you need to lock down the details that are most important. You could refer to those details as your theme.
Every wedding is a theme wedding. You should incorporate all of the same elements of a "themed wedding" into the planning of your wedding just as if your theme was wildly unique, including your wedding planner being on board with your theme/special details. Your theme may be very traditional but it should include all of the nuances that make the wedding truly yours.
It's important that not only your wedding planner but all of your vendors are up to speed with the details that make your day your theme wedding. "The first step in planning a wedding is to choose the type of theme that interests you" (McDonald 188). Even if you have skipped this first step, you can still do it now but make sure you do it. It's that important.
Consider thinking that even though you're not doing a casino night, a Mardi Gras wedding, a dance club type of theme, or a wedding that is not going to follow suit of all of the weddings that have been done in your church for years, your theme should contain the details that are really personal to you and your fiancé. So pick your theme: is it going to be dandelions like we learned about from the bride in the story at the beginning of this paper or are you going to build your theme around bringing all of your guests together? These little details are what make your day special, not just to you, but to your guests, especially if you have a large family. I attended one such wedding where the family worked together to make the day special.
The smell of spicy yet sweet barbeque sauce reminded me of walking into an organic spice and herb shop and that first whiff of freshness that washes over you as you slide through the door. I grabbed my plate and worked my way down the table. Next to each dish was a small card that had a name on it. Many of the names had the same last name, so I assumed they were all family members that created this barrage of a sweet and amazing collection of vegetables, fruit, beef, pork and things that I was not sure what they were, but looked wonderful.
A stout, smiley, sensitive, strong looking man leaned over and said, "This one is mine," with a ton of pride in his deep voice. I said, "It looks great." He said, "Don't forget to vote." I asked, "Vote?" He pointed to the end of the table at some small sheets of paper. I went over, grabbed my ballot, and looked at the contenders. They appeared to be all the people that had contributed creatively to the overall feast.
The DJ picked up the microphone, raised the fader and opened with the words that everyone wanted to hear. "We have tallied the results!" He made some sad joke about a hanging chad and then called out the winners of the categories. Each winner came up and got some kind of basket from the bride and groom with different assorted goods in it. The people around me were ecstatic, even passionate, about who clocked in the most votes.
I noticed that members from both families were congratulating each other and talking about what an amazing job they did with their particular dish. There were recipes exchanged along with phone numbers and suggestions on all kinds of cooking tips thrown back and forth. The conversations were lively and, even though half of the people that showed up didn't have a clue who the other half was when they got there, the event was full of unity.
The cost to the bride and groom for some of the best food I have ever had at a wedding was $120 in prizes and ballot copies. Plus, the bride and groom accomplished something that was unique and special and even though the focus during the dinner wasn't on them, they gained an enormous amount of satisfaction from watching their family members and friends have a great time. This was their personal theme to a very traditional wedding.
The key here, again, is to know what kind of theme you're going to use. Kerry McDonald suggests the sky is the limit. "… Decide on the type of venture wedding that suits you. Some couples choose their wedding adventures based on similar sporting interests or memories of first dates. If you and your partner met while bungee jumping, then why not tie the knot propelling off a bridge?" (190)
Taking the leap and getting hitched as you fall might not be on your list but, wow, it would be something everyone that came to your wedding would never forget. It is also something your guests would talk about to their friends. They may start by saying, "You would not believe what happened at the wedding I just came from," or "I just went to the craziest wedding ever. These two goof balls jumped…" Either way, you left an impression.
The thing to keep in mind is your desire to do something out of the ordinary and this is something special that will live in your heart forever. Even if what you desire is something private and relatively small, it is super important just the same. Make it happen regardless of what your "theme" is; it should be there at YOUR wedding and you shouldn't worry about what others will think.
Works Cited
Grimes, Ronald L. Deeply into the Bone: Re-Inventing Rites of Passage. Ewing: University of California Press, 2002. Print.

Lee, Vera. Something Old, Something New. Naperville: Sourcebooks, Inc, 1994. Print.

McBride-Mellinger, Maria. The Perfect Wedding. New York City: Smallwood & Stewart, Inc., 1996. Print.

McDonald, Kerry. Your Unique Wedding. Franklin Lakes: Career Press, 2005. Print.

Pleck, Elizabeth H. and Cele Otnes. Cinderella Dreams: The Allure of the Lavish Wedding. Ewing: University of California Press, 2003. Print.

Stern, Lee. "Wedding Plans?" Fairfield County Business Journal 36.44 (1997): 21-22. Web. 21 January 2013.

Wicoff, Kamy. I Do, But I Don't. Boston: Da Capo Press, 2006. Print.

]]>